Must-See Outdoor Music Festivals An Hour or Less From Huntington
Forget Coachella & Lollapalooza- we have great music without the hassle of air-travel.




Check out these great festivals an hour or less away with local and nationally renowned artists- most notably Great South Bay Music Festival! Scroll for other summer-long music fests and concerts including Huntington Summer Arts Festival.




photo courtesy of Greater Patchogue
---
20- 25 Mins
Two days of music with 11 bands!

Date: June 8th- June 9th, 2019
Headliners: Kerry Kearney Band & Legendary Murphys
Venue: Old Bethpage Village Restoration







A Day of Art and live Grateful Dead

Date: September 15th, 2019
Headliners: Half Step
Venue: Tilles Center Lawn at LIU Post










photo courtesy of Newsday
---
30-35 Mins Away
Your favorite artists are all performing on one stage!

Date: June 14th, 2019
Headliners: Jonas Brothers, Elli Goulding, Bebe Rexha and more!
Venue: Northwell Health at Jones Beach Theater







grab your tickets to the hottest artists with the top billboard hits.

Date: August 18th -19th, 2019
Headliners: Halsey, Rae Sremmurd, DJ Snake, Future and more
Venue: Northwell Health at Jones Beach Theater










photo courtesy of Newsday
---
40-45 Mins Away
two stages of live music for children and adults with local and nationally acclaimed bands, 10-to-15 food trucks, award-winning local craft beer and wine, and family fun events, including face painting, trail tours, a petting zoo, arts and crafts and more!

Date: May 11th, 2019
Headliners: Gin Blossoms, Steve Earle, Brian Fallon & Jesse Malin
Venue: 175 Gerard Rd, Yaphank, NY 11980







mycountry 96.1 presents the 9th Annual FEST with four great acts and a tailgate parking lot party.

Date: July 3rd, 2019
Headlines: Lee Brice & Chris Janson
Venue: Long Island Community Hospital Ampitheater at Bald Hill




photo courtesy of Long Island Business News
50-60 Mins Away
the longest running and largest celebration of music, art and heritage on Long Island. 4 Stages, 75+ artists, KidZone, arts and crafts, diverse food court, wine and beer gardens and fun!

Date: July 18th-21st, 2019
Headliners: Taking Back Sunday, Dweezil Zappa, Sublime w/Rome, America and so many more!
Venue: 99 Smith St., at Shorefront Park in Patchogue




photo courtesy of Long Island Advance



started 9 years ago because music lovers who lived in a city that needed – that deserved – a contemporary music festival. 60+ artists of all genres across 4 stages, there is something for everyone.

Date: May 31st- June 2nd, 2019
Headliners: Lil Wayne, Playboi Carti, The Strokes, Charli XCX, Kacey Musgraves and many more!
Venue: Randall's Island Park




Pinknic has quickly become a New York City summer tradition, welcoming thousands of guests each year, all dressed in pink and white, to eat, drink, play, and dance the day away.

Date: July 19th & 20th, 2019
Headliners: Mark Ronson, Breakbot, Chromeo and others.
Venue: Randall's Island Park




the internationally renowned Electric Zoo Festival is one of New York City's largest music festivals and features the top names in electronic music, bringing a wide variety of acts from around the world.

Date: August 30th- September 1st, 2019
Headliners: Armin Van Buuren & Diplo
Venue: Randall's Island Park




photo courtesy of Paste Magazine
---
Notable summer music fests & summer concerts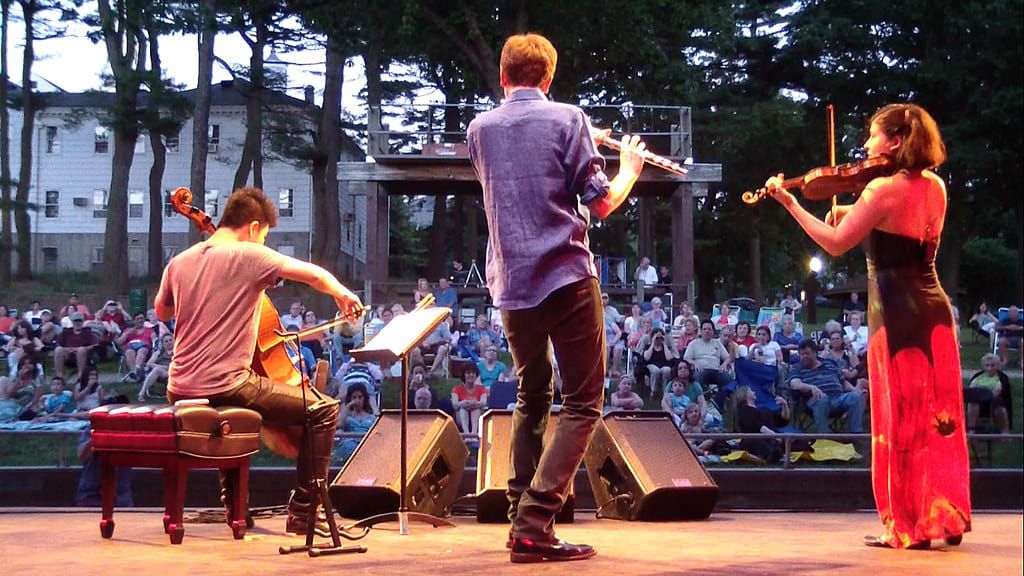 The Huntington Summer Arts Festival brings a roster of exciting performing artists to the Chapin Rainbow Stage in Heckscher Park each year. Artists and ensembles include award winning, world-class talent in music, dance and theatre from around the globe, as well as the finest performing arts groups from Huntington and Long Island.
Date: July - August
Location: Heckscher Park in Huntington
This is a FREE summer street fair with six stages of live music and entertainment, more than 90 craft & retail vendors, 11 food trucks, children's activities and amusements, a Chinese auction and much more! Each festival runs from 5 p.m. to 9:30 p.m., though live music and the serving of alcohol in the outdoor corrals will be cut off at 9 p.m.
Date: June 27th, July 11th, July 25th, August 8th 2019
Location: The festival is held along Main Street from West Avenue to near Rider Avenue, as well as portions of South Ocean and Railroad avenues.
This week long festival will include multiple performances from gifted young musicians, as well as guest artists.
Date: June 23rd- July 3rd 2019
Location: Shows will take place in various venues throughout the town of Oyster Bay, including the Oyster Bay Historical Society and Raynham Hall.
Head to Stony Brook Village green on Sundays for summer concerts throughout the summer.
Date: July 7, 14, 21, 28 & August 4,1,18
Location: Stony Brook Village Green
This quaint seaside town has music all summer long.
Happenings On Main Street

Date: Fridays- May 24th- August 30th, 2019
Location: Northport Village Park

Northport Community Band

Date: July 4th, 11th, 18th, 25th, 2019
Location: Northport Village Park

Summerfest Concert Series

Date: Wed.- August 7th, 14th, 21st & 28th, 2019
Location: Northport Village Park
For music every night of the week check our local venue The Paramount.
Stay Awhile: