The Best Breakfast Spots In The Huntington/Five Harbors Area
Finding top-notch breakfast food in the Huntington/Five Harbors area isn't hard- we're fortunate to have a number of restaurants and take out spots. These are some of our favorite spots and we hope that this list will help you discover a new favorite. Leave a comment if we didn't mention your breakfast location of preference. Share a picture with your favorite menu item using #LTLH.

Centerport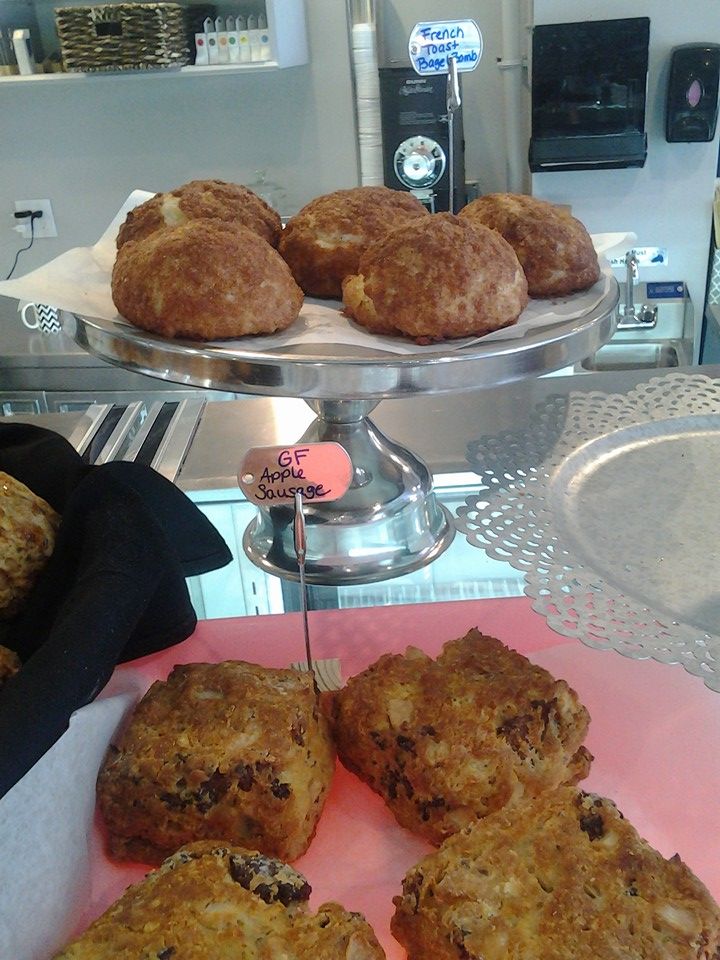 photo courtesy of the Hometown Bakeshop- cinnamon french toast bagel bombs & gf apple sausage bake
Hometown Bakeshop is the newest kid on the breakfast block and they are sure to stay. They have a wide variety of items which range from cookies all the way to sweet and savory pies. Whether you choose to sit in one of the booths or take your breakfast/treats to go, you are sure to enjoy. Get a freshly made breakfast sandwich on their own cheddar biscuit, get an out of this world "bagel bomb" filled with flavored cream cheese, or choose from one of their delicious scones.
Other menus items include: cookies, cupcakes, cakes, sweet & savory pies, and more!
Tip: Head to their other location at Black & Blue in Huntington Village for a great brunch, lunch or dinner.
Located at 2 Little Neck Road, Centerport, NY 11721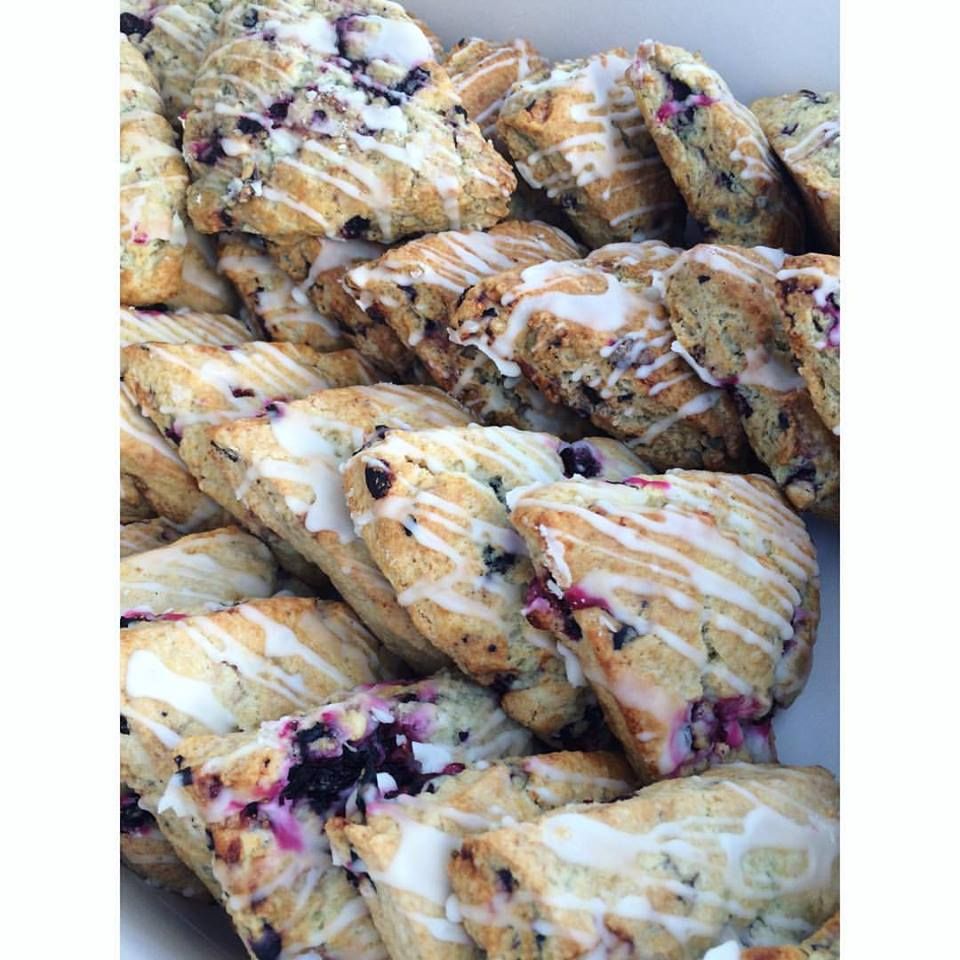 photo courtesy of Blondie's Bakeshop- lemon berry scones
Blondies Bakeshop has an ever changing assortment of baked goods each day which means you'll never get bored. Tucked amongst the small business of Centerport is this little bakery with big ideas and really cool hop vibe. They bake their good in small batches and use fresh, seasonal and wholesome ingredients. They offer breakfast scones, muffins, biscuits, rolls, cinnamon rolls and even their own pop-tarts!
Other menu items include: bread, cookies, cupcakes, cakes, pies and more!
Tip: Watch out for their

Blondies Bakeshop truck

at local events- tasty bakeshop treats on the go!
Located at 90A Washington Drive, Centerport, NY 11721
Cold Spring Harbor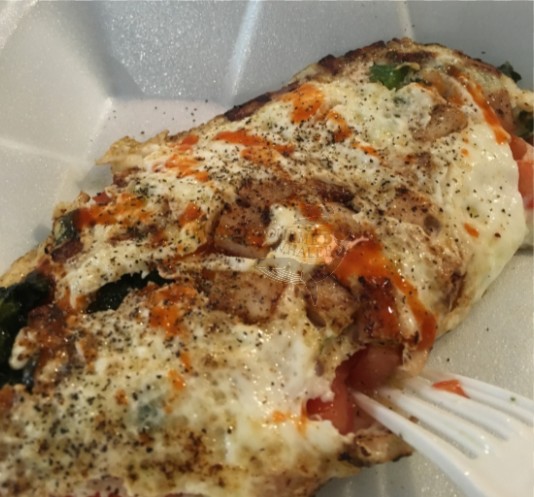 photo courtesy of the Gourmet Whaler- custom omelet
The Gourmet Whaler is a quaint shop in the heart of Cold Spring Harbor where you can find locals and visitors enjoying fresh made goods throughout the day. Opening at 7:30 during the week and 9:00 on the weekends, this a great place to stop in, sit down and pick one of the many options off the breakfast menu including classic favorites such as french toast, pancakes, eggs or try their quiches. Need to grab something on the go- try one of their smoothies or frappes.
Other menu items include: ice cream, home made Dreimaker chocolates, cookies and more!
Located at 111 Main Street, Cold Spring Harbor, NY 11724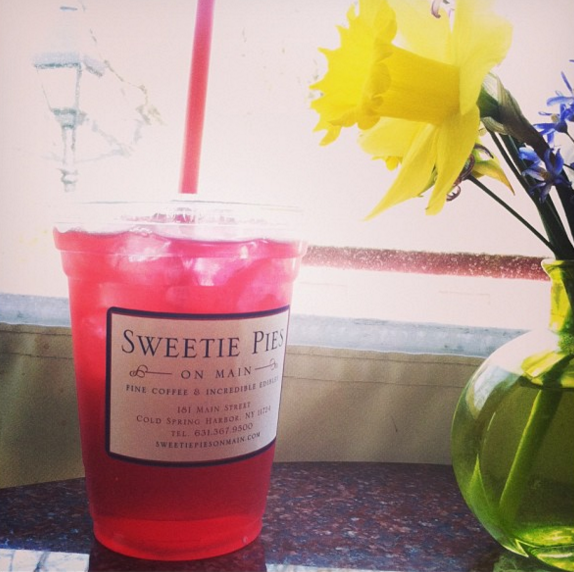 photo courtesy of Sweetie Pies On Main
Sweetie Pies on Main is a bright, cheerful and charming coffee and pastry shop located in a delightful yellow building just as you head west through town. Offering delicious espresso drinks, coffee and fresh-daily baked goods from vendors in the area this is a great spot to stop and enjoy the scenery.
Located at 181 Main Street, Cold Spring Harbor, NY 11724



Huntington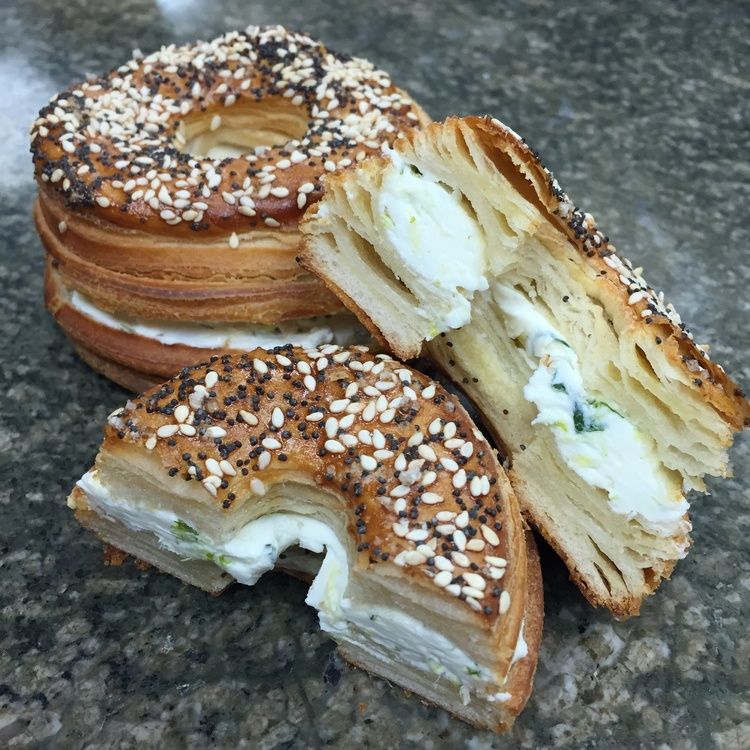 photo courtesy of Fiorello Dolce - Frenagel
Fiorello Dolce is a European Style patisserie with a Parisian flair. All of their pastries, cakes, cookies, and breakfast items are made daily on premise, using the finest and freshest ingredients. Breakfast items include their celebrated croissants, along with biscuits, danish and brioche. Make sure to try one of their awesome "Frenagels." A Frenagel is a french croissant bagel created and sold exclusively at fiorello dolce.
Other menu items include: cookies, cakes, breads, pastries, gelato and more!
Located at 57 Wall Street, Huntington, NY 11743
Golden Dolphin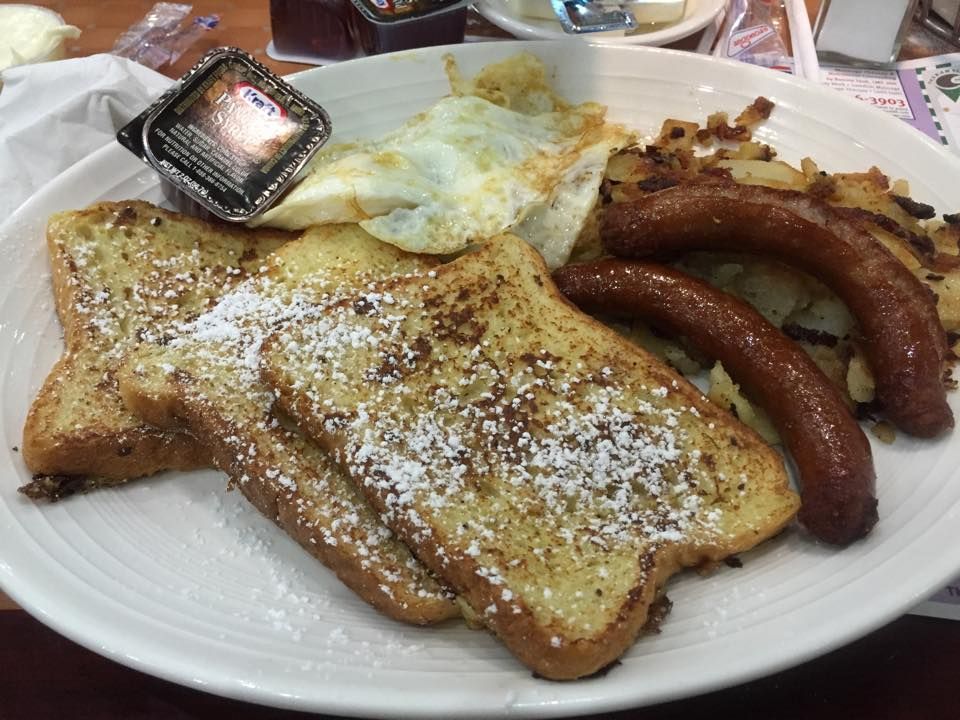 photo courtesy of Golden Dolphin
Golden Dolphin's service and food remains as great as ever. With over 400 items on the menu there is sure to be something to please any taste. Try one of their new breakfast items like the breakfast skillet of eggs cooked with tomatoes and olive oil, the apple crumb pancakes or the "French toast delight."
Other menu items burgers, salads, smoothies and our personal favorites Matzo-ball soup and coleslaw!
Located at 365 W. Main St, Huntington, NY 11743
Hatch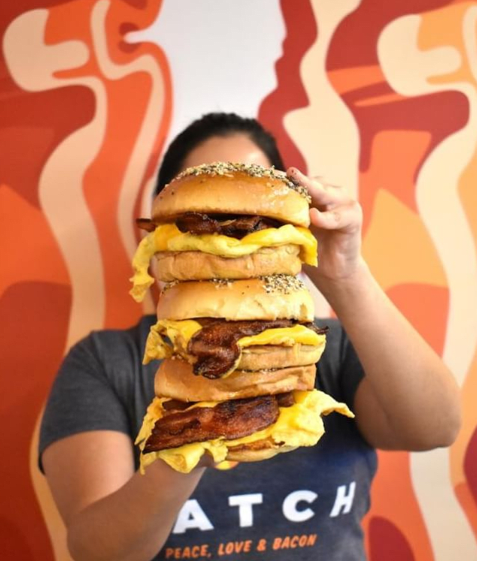 photo courtesy of Hatch
Serving breakfast and brunch from 7am-3pm every day this place has all your breakfast desires from breakfast tacos to corned beef hash to multiple versions of pancakes and sandwiches like grilled cheese and reuben.
Other menu items include various versions of Benedicts and brunch worthy drinks.
Located at 286 Main St, Huntington, NY 11743
Mundays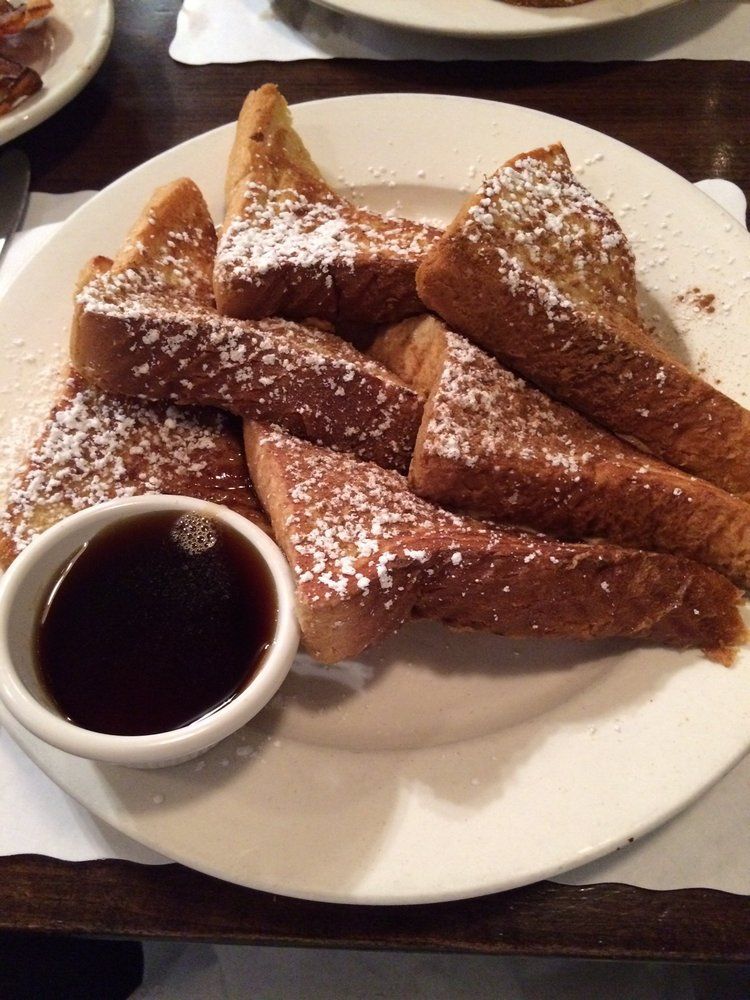 This Huntington favorite on Main Street is cozy and comfortable with all the delights of a classic diner including checkerboard flooring, soda foundation and a long bar with round stools. The breakfast menu has all the favorites- pancakes, eggs, omelettes, french toast and more. The silver dollar pancakes are delicious, the challah french toast is dusted with sugar to perfection and the nutella banana french toast has the wow factor.
Other menu items include sandwiches, burgers and so much more!
Located at 259 Main Street, Huntington, NY 11743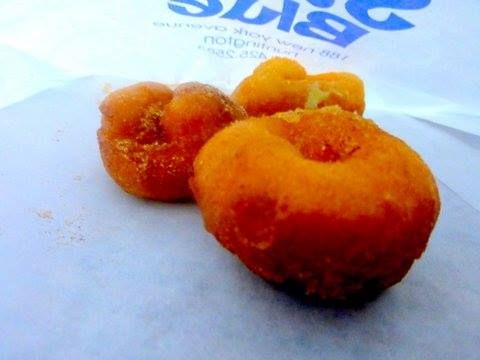 photo courtesy of Stella Blue- donuts
Stella Blue is a brightly painted shop located steps from Heckscher Park. Greeted with a warm and friendly atmosphere- you will have a multitude of choices of their extensive menu including their own Stella's "fresh made" donuts, classics options, oatmeal and their own fabulously named options including a Star Wars themed Tatooine Breakfast Bowl, ghetto bagel with cream cheese and bacon, scarlet begonias and the morning jed. Don't forget to grab a fresh brewed fair trade organic coffee.
Other menu items include salads, sandwiches, burgers, ice cream and vegetarian options.
Located at 188 New York Ave, Huntington, NY 11743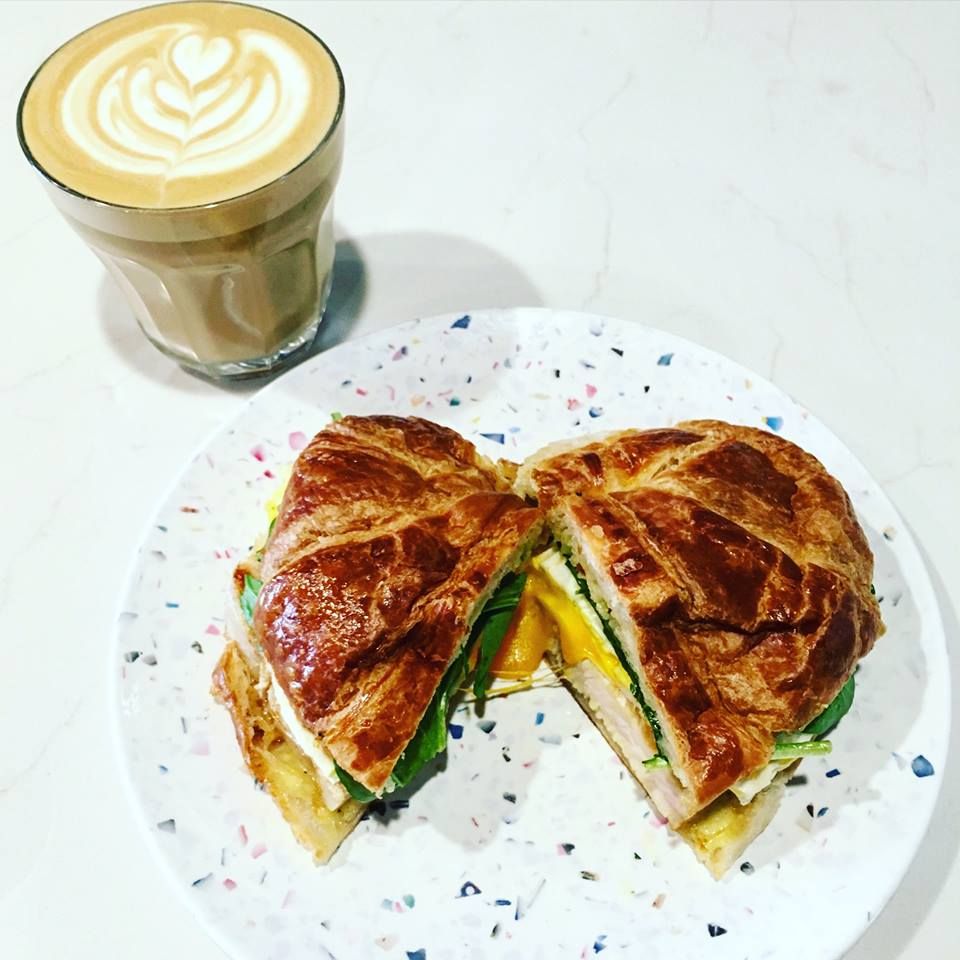 photo courtesy of Southdown Coffee- maple latte & breakfast croissant
Southdown Coffee located amongst the shops on Wall Street is an independent roaster that servers a rotating selection of coffees based on growing seasons. Their coffees are sure to please the most distinguishing coffee drinkers and will stave off any caffeine shortage you are facing. The serve fresh made sandwiches including breakfast egg sandwiches as well as good from Fiorello Dolce and Hometown Bakeshop.
Located conveniently near Huntington Harbor, TK's Galley is aptly decorated with nautical items throughout. Breakfast items include eggs benedict which is wildly popular include their specialty crab cake variety. Pancakes, omelets and other items are also available.
Cash only
Serves lunch and dinner on select locations
Located at 156 New York Ave, Halesite, NY 11743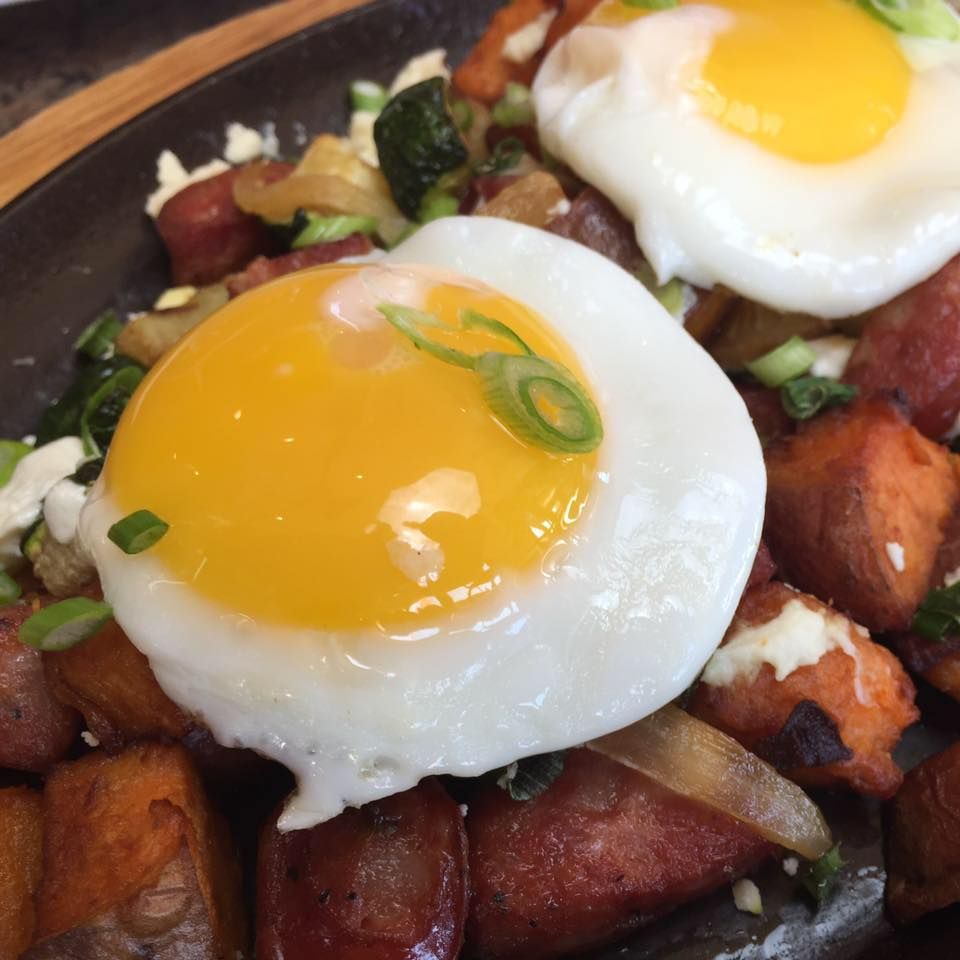 photo courtesy of Toast & Co.
Toast opened 7 days a week with a menu filled with an extensive array of breakfast items including 5 options for eggs benedict, over 10 ways to have your eggs, more than 5 types of french Toast, pancakes and waffles. Try Chef Fabrizio's only at Toast items including scambled popover, dulce de leche toast, crepe salata and a jalapeno cured bacon omelette.
Other menu items include lunch options such as sandwiches, burgers, wraps and paninis.
Located at 62 Stewart Avenue, Huntington, NY 11743
Northport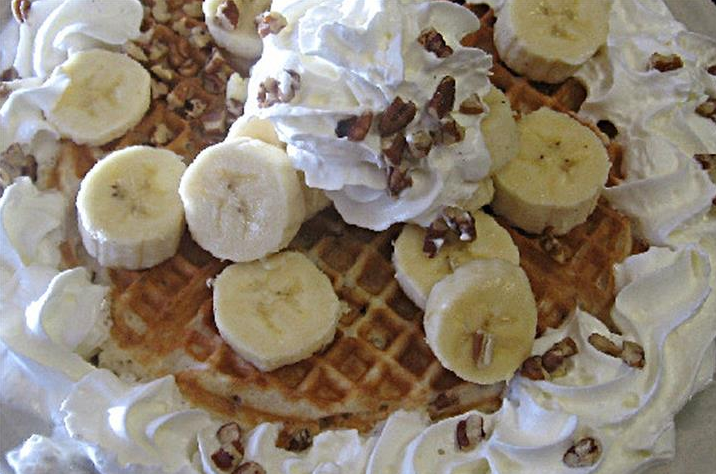 photo courtesy of Sweet Mama's
Sweet Mama's located in a beautifully painted home feels as if you are dining at your favorite "Mama's" house. There is an amazing selection of breakfast wraps & skillets, omelettes, cereals and specialities. The granola encrusted french toast, the praline pecan pancakes and the croissant french toast are sweet delicious confections.
Tip: Sweet Mama's serves breakfast, lunch and dinner. They have daily specials including Burger Night, Family Night etc. Also be sure to ask for their specials each day.
Located at 9 Alsace Place, Northport, NY 11768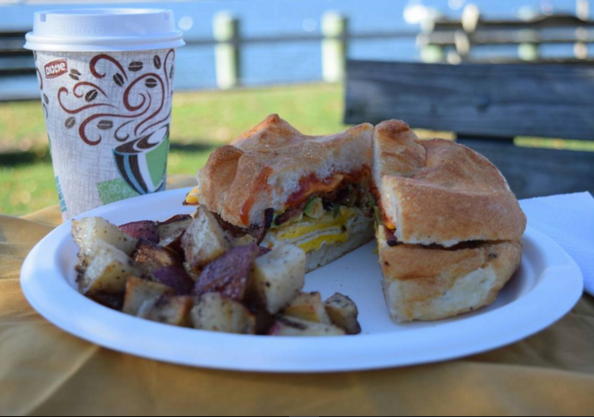 photo courtesy of Copenhagen Bakery
Sitting harbor-side Copenhagen serves fresh made breakfast items. Place your order at the counter and then wait for your order to be brought to your table. When the weather is nice, sit outside with a view of Northport Harbor. Serving classic breakfast favorites, they also include some Scandinavian styled options including The Copenhagen, The Nordic and The Tivoli omelets. You can also choose from an assortment of crepes including Lingonberry!
Other menu items include lunch options such as bbq pulled pork and the Dutchman (roast beef, caramelized onions, mushrooms..) and delicious homemade soups.
Located at 75 Woodbine Avenue, Northport, NY 11768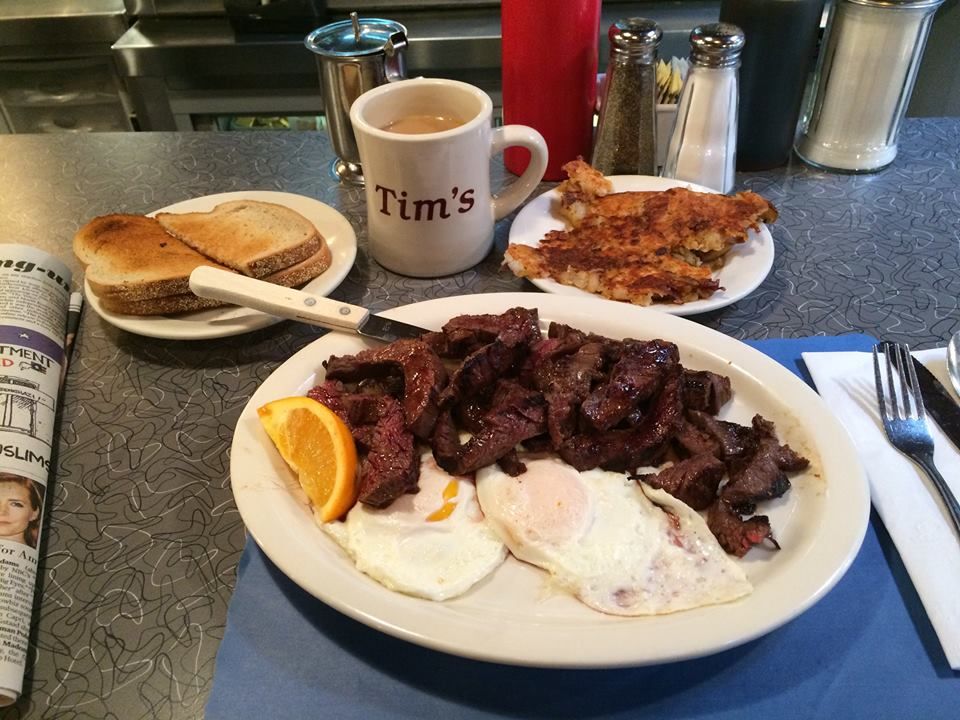 photo courtesy of Tim's Shipwreck Diner
Tim's Shipwreck Diner is full of history and tasty food of course. The diner was originally an old railroad car and the diner has been featured in movies and tv. Classics mixed with "Shipwreck" specials like "The Wreckfast Burrito" and "The Wreck-Less" Wrap."
Note worthy weekend brunches: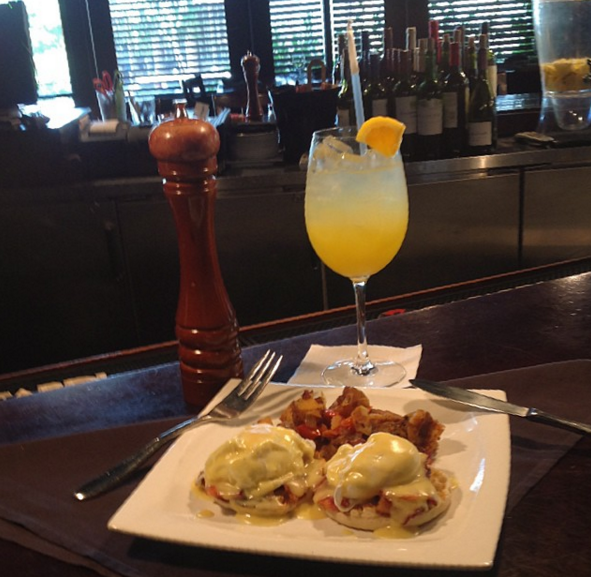 photo courtesy of Black & Blue Seafood- Eggs Benedict with unlimited mimosa
Black & Blue Seafood Chophouse filled with happy and talented people to make your dining experience a pleasure. The brunch menu is filled with classic favorites like pancakes and french toast but you can make your own choices of bread and fillings or choose more lunch like choices like wings. The Hangover Helper is a good cure for a late night out at Huntington's bars.
Located at 65 Wall Street, Huntington, NY 11743
Storyville American Table is serving up NOLA style cuisine and brunch has the same southern flair. A price fixed menu lets you try their jambalya, southern fried chicken, as well as the omelet and belgian waffle station. They even have a brunch raw bar!
Located at 43 Green Street, Huntington, NY 11743
Salumeria Pomodoro serves up a price fixed Sunday Brunch from 11am-4pm. A delicious and inspired Italian menu including Uova Toscana*, a variety of omelettes, paninis and more. Try this new spot and make it your go-to favorite.
Located at 46G Gerard Street, Huntington NY 11743


More Foodie Blogs Below!